This is a letter written to Theron Humphrey, a photographer and owner of Maddie The Coonhound. We are big fans of his work and are crossing our paws he and Maddie can meet Sage & Simon when they come to San Francisco in September.
Dear Theron,
Since I wasn't sure how much I could write to you on the 'sign up' page on whywerescue.com, I'm posting this letter on a blog we started when we moved cross country from Charlotte, North Carolina to San Francisco, California last June. The pups and I lived away from Matt for almost 6 months prior to our move and without them, I don't think I could have done it.
We had never driven cross country before (just the half country several times) and definitely got the itch. I tried to convince my husband we should just keep going and keep blogging, but he had to get back to his job. I see you've made it work, so thanks for giving me something to point to as an example.

I guess I should introduce myself. I'm Kristin, or KK as everyone likes to call me. And this is my husband Matt. We are both in the creative industry (advertising) and have two pretty fantastic pooches — Sage and Simon. I'm from Texas. Matt's from North Dakota. And all four of us share a love for travel.
As lovers of photography and dogs, Matt and I are both huge fans of Maddie and your work. I guess we have our friends to thank, since they are the ones who suggested we follow you first on Instagram, saying they didn't think anyone else out there took as many photos of their dogs, or explored with their dogs in so many places besides us.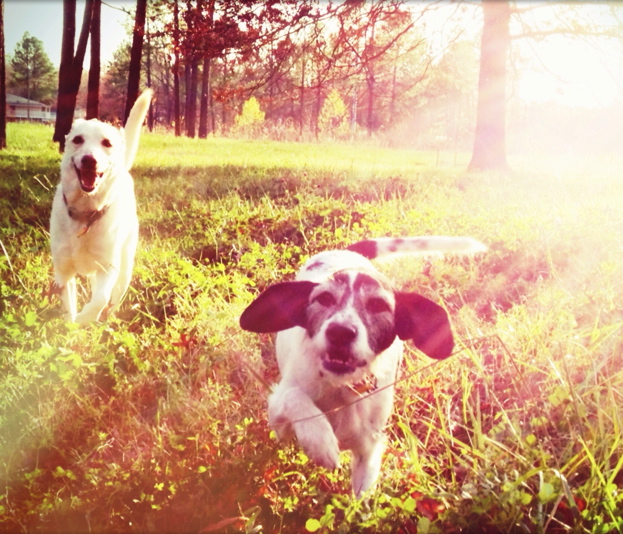 Not only are we happy to not be alone in that camp, we genuinely believe in what you are doing. So much so our excitement for you manifests in us spreading the word about you and your work with just about anyone who will listen. First up are our friends in Austin. They all know you'll be there on March 8 and I hope you get a huge Texas welcome in the state's most incredible town.

Why We Rescue speaks to us because have two rescues ourselves. We like to think we rescued Sage (our lab mix) and adopted Simon (our pointer terrier mix) since the Richmond SPCA actually did the rescuing. The point is: they're not pure bred dogs like the ones I always had growing up, but they are full of all that is pure about having a companion. They have changed our lives and are truly our best friends. You know what we mean.

This year Sage and Simon are both turning 10 years old. And we would be honored if they were included in your Why We Rescue project. Also, when you come to San Francisco in September, we'd love to show you our favorite spots to let dogs be dogs. Sage and Simon are great hosts! We've tried out just about every beach and hike in the Bay Area, and we know all of the best spots for both photography and fun.
I'm not sure what you'd like to know from folks, but if we had to write down the answer to 'why we rescue', it would be a never-ending list with examples like:
....because when you get lost in the mountains of Virginia and happen upon 6-week old puppies living under a car next to a shack, it's not just you taking a wrong turn so you could turn the other way, it's a turning point in your life.
....because when you walk into a shelter and see a 4-month old pup sitting in a cage shy and shaking with confusion, it's your duty to shake off any fears of taking on responsibility you can handle.
....because when everyone you know says "you guys would be such great parents" and "we want to come back in our next life as one of your dogs" you know you're living a joyful, compassionate life.
....because we need a daily reminder to get out every day and explore. Life's too short -- especially a dog's life -- and sharing those experiences with dogs we know would not have had those moments otherwise fills up our hearts.
If you're looking for Sage and Simon's stories - or how they came into our lives, here they are:

Sage's story starts in 2002 when Matt and I moved from Dallas, Texas to Richmond, Virginia. I had never left my home state and wasn't exactly sure where Richmond was located. But Matt promised I could get a dog and that pretty much got me packing.

On one exploration to Charlottesville, Virginia, Matt and I got lost in the mountains south of town. Along one of the twists up the mountain, we happened upon a shack - a dilapidated house with a few beat up old cars out front with tarps on top of them, and I saw 8 puppies running around the yard.

I got out of the car and attempted to walk up to the front door to ask about the pups. They were jumping all over me and I knocked on the door.
A man cracked the door enough to stick his head out and give me a look that made my heart stop for a second. Maybe I shouldn't have knocked?
I asked if he was selling the puppies. He said "just take one" and slammed the door. I looked down at them all jumping and pawing at my legs and there was one sitting on the dirt with drops of black oil on her forehead. She had green eyes. That was the one I wanted.
As I made my way back to our car, the man came out of the house with his teenage son and an older male dog that looked to be the puppies' father. I don't remember our exact conversation, but I remember asking him where the mother dog was and they looked at each other and laughed a bit. I showed him which dog I wanted, just to make sure it was still ok to take one and he asked, "Who L.B.?" When I asked what L.B. meant, he laughed and said "Little Bitch. The one you want looks just like her Mama."
I also remember asking if he was going t
o tak
e the pups into town and try to give them away. This house / shack was completely off the beaten path. No one would be driving by anytime soon. He said no, he wouldn't take them into town because they would just throw up all over his car and make a mess. My heart broke into pieces. I wanted to take them all. Or at least take them into town to a shelter. It was clear this man could care less about these pups. But we felt a little awkward about making the suggestion that this man shouldn't have these pups. We were way back in the woods and we were on his property. I picked up the blonde one with the green eyes and put her in the car.
When we were driving away, off to the side of the road, near the man's property and under a giant bush was a dog that looked like an adult version of my new pup. The dog was a she. And she was dead. I burst into tears - this was the mother. To this day, I can't remember a time in my life when I cried harder.
There's more to Sage's story, but let me just say, she is a smart, sweet, funny, and happy dog who smiles for the camera. It's the craziest thing.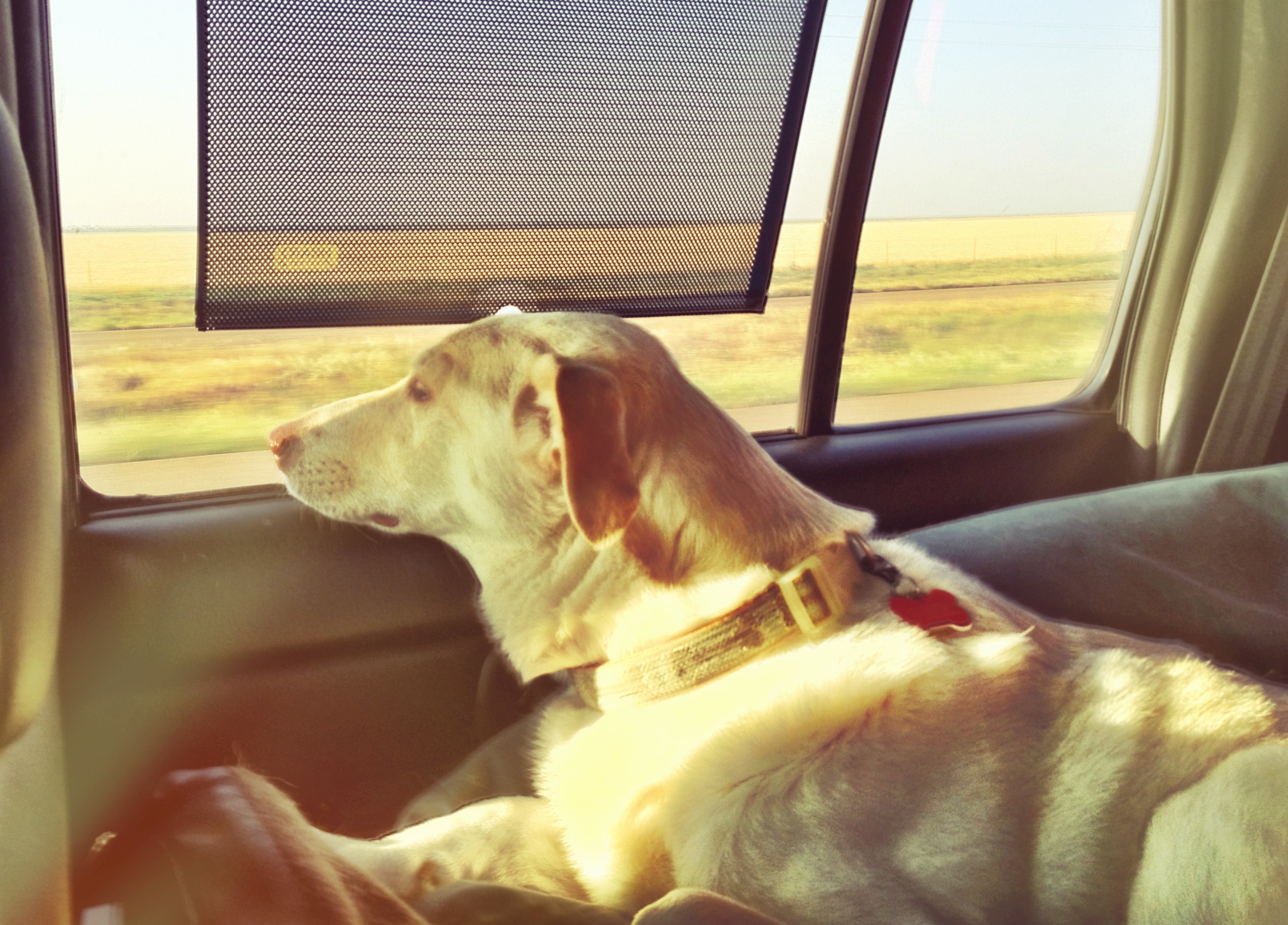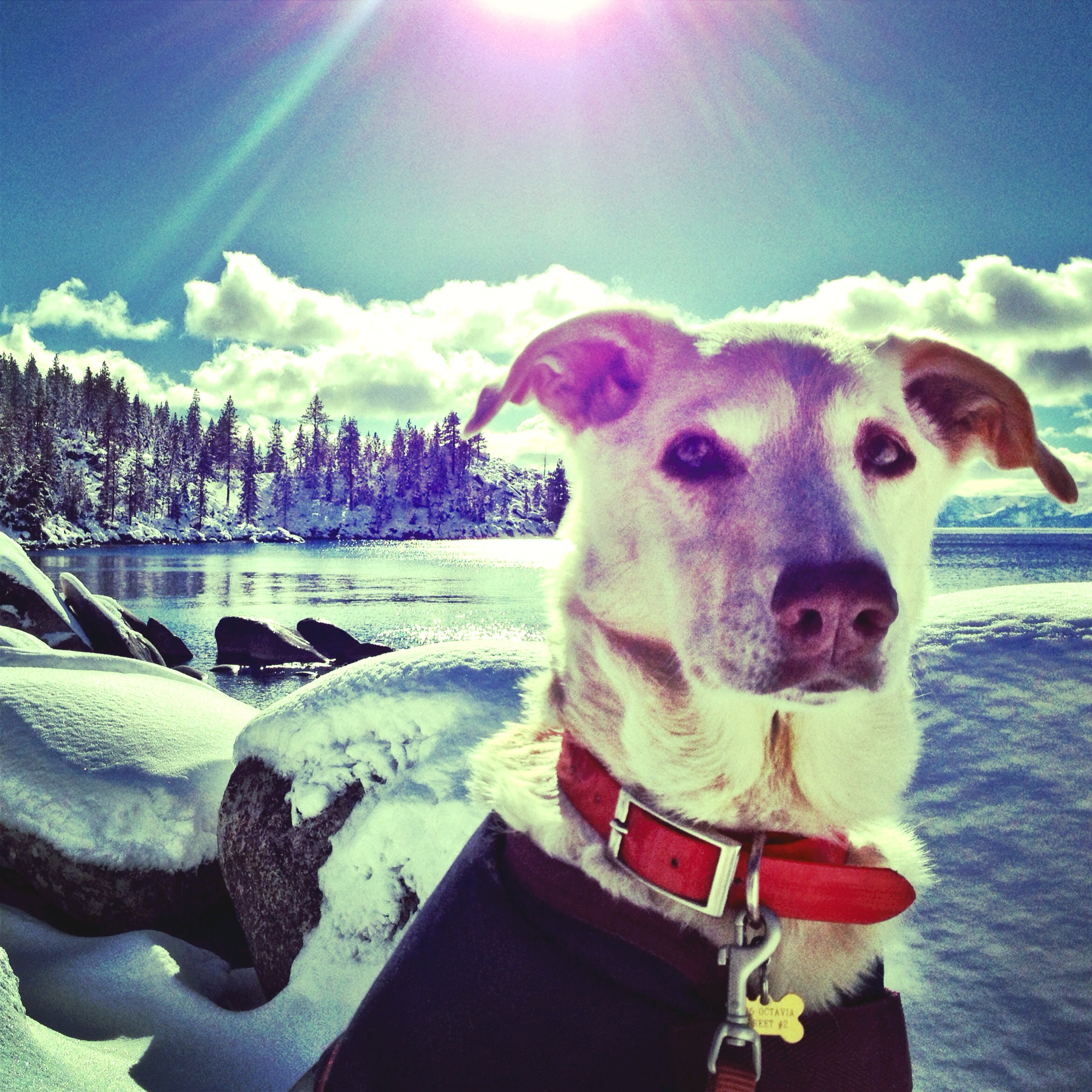 Because Sage liked other dogs so much, about 8 months after she was our "only dog", we brought Simon home.
Simon's story is one where the first 4 months are chapters I'll never know about. Where his story begins with me is when I was sneaking to the Richmond SPCA a few times a month looking for a buddy for Sage. I'm not sure if you know anything about this facility, but it's extremely nice. They are well funded and the animals are very well cared for. But back to Simon. I was walking through and I saw this run with two black and white dogs sitting inside. They had terrier faces and were very shy. I looked at the card hanging on the door. It said there were 9 dogs in the litter and they were rescued from a kill shelter in Akin, South Carolina. They were 4 months old. I looked at the pups again. Kill shelter? Who in the world could put down these dogs? Look at their faces!
I went into a private room and an employee brought in the pup I pointed to. Bart was his name. He was extremely shy, but he was so sweet. The lady suggested I bring Sage up to meet him and see if they got along. "Bart" and Sage got along swimmingly. We filled out the paperwork and "Bart" became Simon. Simon was our new dog.
There's also more to Simon's story - like how I was sick in bed for a full day because I was overwhelmed with responsibility and thought we'd have to take him back. Or how he had a tumor removed from his large intestine last year and we didn't think he'd survive.
Simon is a dog who people stop us and ask us about every. single. time. we. leave. the. house. "What kind of dog is that?" they always ask. "The best kind. A rescue," is my signature response. He has a wise face and he's crazy cute. He's got big velvety and floppy ears like Maddie and he's a snuggle bug.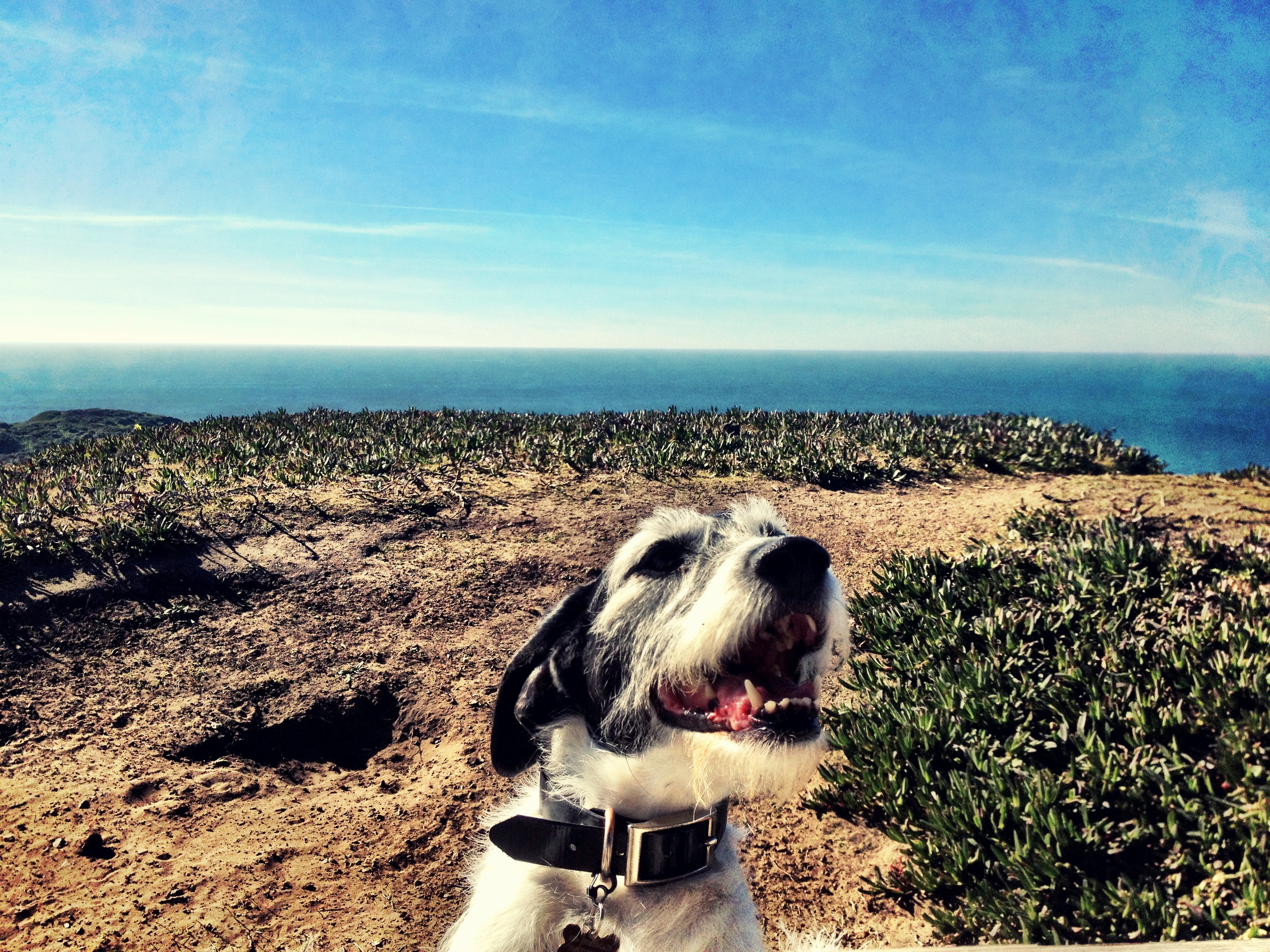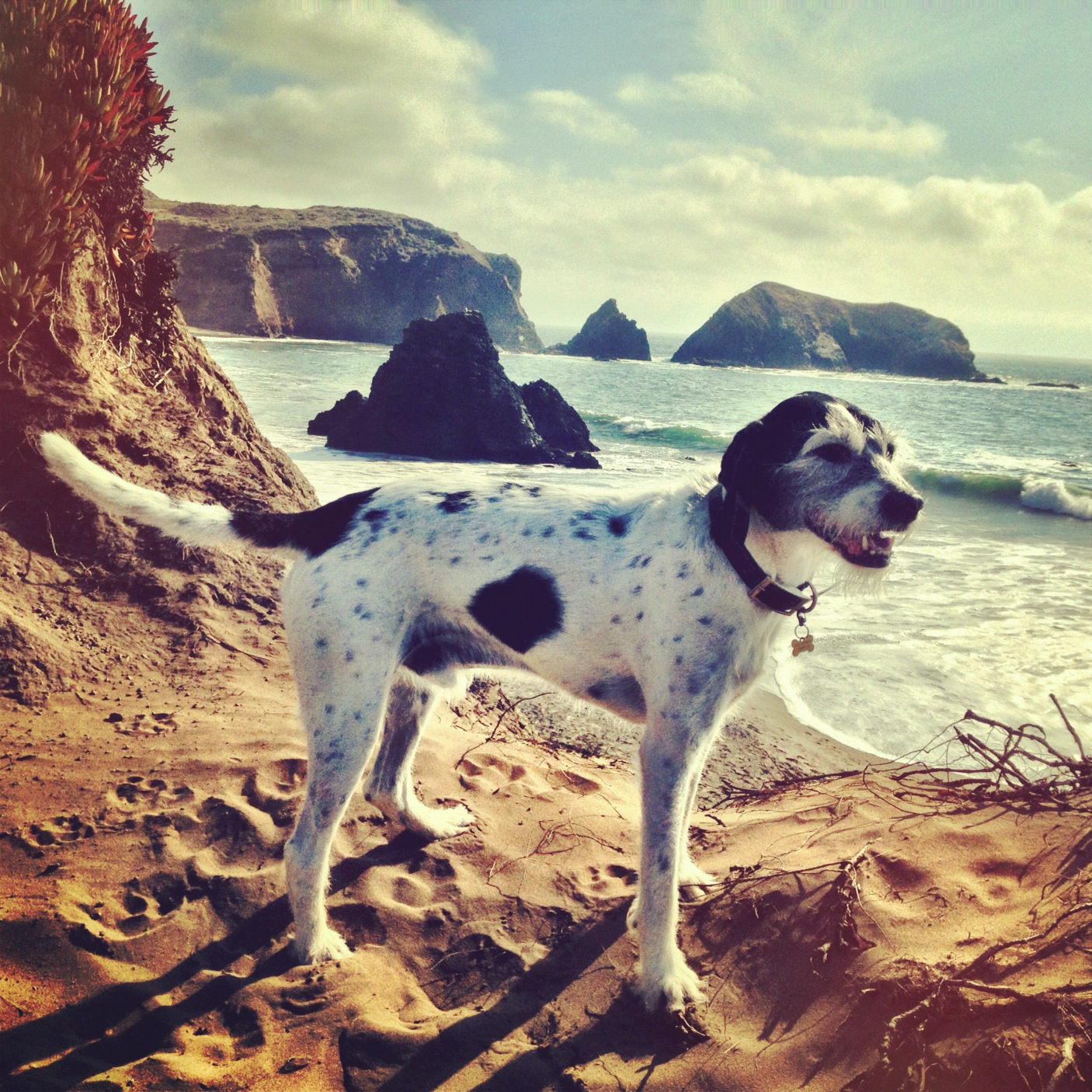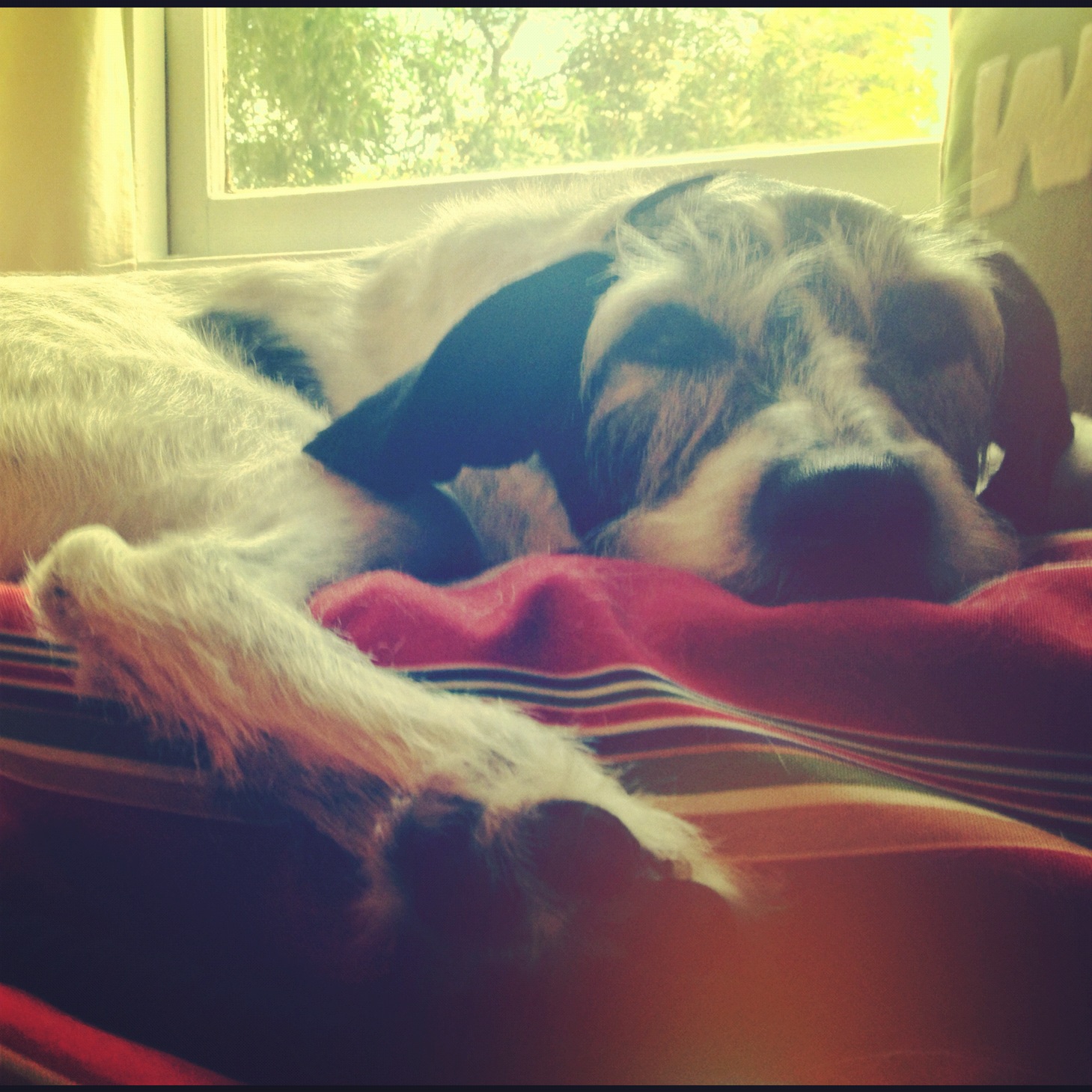 These days, these two sit by my feet and help me work (I am a freelance writer / work from home) and wait for us to take them on their daily romp on the beach, hike in the woods, or walk in one of San Francisco's fantastic parks.
I realize this note is long. So I thank you if you've gotten this far. We are just genuinely excited for you and think of your project as something we would have loved to do ourselves. Since neither of us are photographers, that would have never been the case - but traveling the country and telling stories, connecting with great people . . . you are living the dream.
If you'd like to see more about us and our pups, you can check out our Instagram photos @heykk or @mklug Or scroll back through this blog from our cross country adventure.
Again, we'd love to help you spread the love of rescuing in any way we can. We have no doubt we make incredible ambassadors.
Safe travels to you and Maddie and all the best for a fantastic tour,
KK & Matt (Sage & Simon)